Convert PDF to Excel
Upload and start working with your PDF documents.
No downloads required
How to Convert PDF To Excel Online?
Upload & Edit Your PDF Document
Save, Download, Print, and Share
Sign & Make It Legally Binding
Why to Use PDF to Excel C
onverter?
Nowadays we have lots of document formats that can be helpful in one or another situation. However, during the last several decades Portable Document Format is one of the most frequently used. The reason is that it offers its users a number of benefits unlike many other alternatives. You can effortlessly open it, view and share with other recipients. What is more, it never loses its formatting. It means that a person will see the same file as you do after receiving. However, there are cases when you may need to use some other features for managing your docs. Imagine that you have multiple figures in your file and you want to make certain calculations. PDF can`t help you to accomplish such a procedure. The solution is to convert it to Excel. Look through the information below that will definitely help you to change your file as well to choose the best converting tool.
How to Change PDF to Excel?
In order to change your document format, you need to find an appropriate converter first. Of course, you can opt for desktop solutions. However, be aware that you may face certain inconveniences. Such tools usually require some payments and you need to periodically update a version to have an ability to use the newest features. Unlike the above-mentioned, online solutions don`t call for any downloads of additional software and they are very easy to use. They provide the customers with a step-by-step instruction, so converting your PDFs will be a breeze for you.
Main Converting Steps
The process of converting your PDF file to Excel is rather simple. The digital tools allow you to accomplish it in seconds. Look through the steps required:
open a specific solution;

upload an item you want to transform;

click the "Excel" button to get it processed;

download a newly created paper to your computer.
You have no reason to worry about the safety of your documents as they are deleted from a server after they`ve been processed.
What's Included?
Redact & review PDFs online
Convert files to and from PDFs
Fast & Secure
No Downloads. No Installations. Try Now!
Video instructions and help with filling out and completing Convert PDF To Excel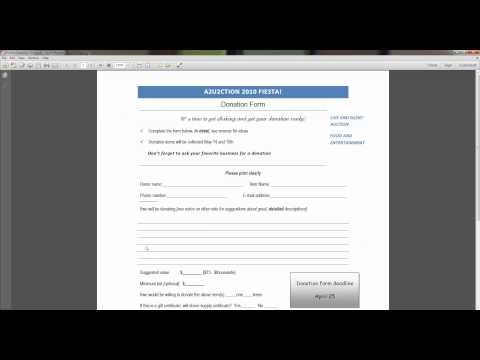 Instructions and Help about Convert PDF To Excel
Terry Grover from Terry Grover computer consulting in Portland Maine today we're going to fill out some forms have you ever downloaded a form from the internet or received one by email you are instructed to print the form fill it out by hand stick it in an envelope or if you're technically savvy you like fill it up by hand put it on your scanner scan it into your computer and then email either way you've spent a lot more time than you needed to to fill out this form so let's learn how Adobe Reader can help us fill out the form right on the computer if you don't have a dhobi reader go get it online you're going to go to WWE com go here to the download link and click on Adobe Reader Adobe automatically recognizes what kind of computer you're running what operating system and gives you the correct version be sure whenever you are downloading the program that you check carefully around the page and uncheck all of those optional offers offers to change your search engine offers to put in extra programs all the things you don't need and often are not good for your computer then simply click install now go through the process and you will have Adobe Reader the latest version now back to our form what I want to do is fill out this form it's just a typical form that was created for in this case of Church auction all I have to do here is go up to the right hand side in the upper corner and notice these three buttons that we always ignore an Adobe Reader I want you to click sign when I get this the fill and sign box open notice I can add check text I can add check marks which are often necessary I can initial and even put my signature on this form right now I'm going to add text so I'm going to click add text notice what happens this add text button appears here I can change the font I can change the size I can do anything I want I'm going to take my cursor and I'm going to click it right here where I want to type my name and Here I am see and all I have to do is pull it here perhaps I'm going to sell at the auction a painting and I can continue to do that let's say here I want my letters to be smaller I can make them smaller and say this is a painting that completed whatever you'd like to do when you're all done all you have to do is file save as and simply name your form there it comes we're going to save as whatever we would like to save it as and to email it simply click on the envelope that says save file as email attachment it is going to automatically connect
What Our Customers Say

Deborah W.
I corrected a mistake in my form and replaced it with the right information. It took a few minutes only! Thanks a lot!

James S.
The process of PDF correction has never been so easy. I've managed to create a new document faster than ever before!

William G.
It was really easy to fill out my PDF document and add a signature to it! This is a great service! I recommend it to you!

Denis B.
I edited the document with my mobile phone. It was fast and, as a result, I've got a professional-looking document.
Supporting Forms
Submit important papers on the go with the number one online document management solution. Use our web-based app to edit your PDFs without effort. We provide our customers with an array of up-to-date tools accessible from any Internet-connected device. Upload your PDF document to the editor. Browse for a file on your device or add it from an online location. Insert text, images, fillable fields, add or remove pages, sign your PDFs electronically, all without leaving your desk.
FAQ
Which is the best free program to convert pdf to excel or word?
I think that the best free program to convert pdf to excel or word is AltoPDF.https://www.altoconvertpdftoexce...https://www.altoconvertpdftoword...AltoPDF is a streamlined free pdf converter that allows you to convert files both from and to PDF format. Convert PDF files into a large number of other document formats such as Word, presentations and images.Take an advantage of converting files to PDF from PowerPoint, Word, PNG and JPG formats.
How can I convert PDF to Excel Offline?
You can use PDFelement --- All-in-One Solution to create, edit, convert, OCR, combine and annotate PDFs.Step 1. Open PDF FileLaunch PDFelement and click on "Open File". Select the file you want to convert from the pop-up window.Step 2. Convert to ExcelGo to the "Home" tab and click on "To Others" and then "Convert to Excel". Save the file as domain name .xlsx or .xls .Here is the result:PDFelement is across all platform.For Windows: [OFFICIAL] Wondershare PDFelement - Smart PDF EditorFor Mac: PDFelement for MacFor iOS: PDFelement - PDF Solutions on the App StoreFor Android: PDFelement - Free PDF Reader and Annotator - Android Apps on Google Play
What is the best PDF to Excel converter?
Here' s the list of best PDF to Excel Converter for MacOS or Windows.on MacOSCisdem PDF OCR Converter for Mac: convert any PDF, including native, scanned, even secured PDFs into Excel and other 15 formats, with original file quality retained.2. Adobe PDF to Excel Converteron WindowsFoxit PhantomPDF 8 for Windows: convert both native and scanned PDF to Excel accurately.2. Readiris 16 for WindowsOnlineSmallpdf2. online2pdf
How do I convert a PDF to excel in JAVA?
First you have to read the data in PDF with a Framework iText, Programmable PDF software.Once you are done with reading of data you can write it into the excel using Apache POI - the Java API for Microsoft Documents or JExcelApi.I would suggest you to use Apache POI as it supports 2007 workbooks.
Which is the life time free application for convert PDF to excel?
I doubt if there are free life time desktop applications to convert PDF to Excel, if there is, I think it is feature limited.Why not try online free PDF to Excel Converter, such as smallpdf and online2pdf, they offer free service to perform such a conversion. But you are not recommended to upload highly private and complicate PDFs for conversion.Also, there are abundant desktop PDF to Excel converter, support batch conversion and bring high quality conversion results, even is able to convert scanned PDFs into excel files.Cisdem PDF Converter OCR for MacNuance PDF to Excel ConverterFoxit PhantomPDF 8 for WindowsReadiris 16 for Windows
How do I convert a PDF document to excel?
Use a PDF to Excel Converter.Best PDF to Excel Converter for Mac—-Cisdem PDF OCR Converter, allows users to convert both native and scanned PDFs into Excel, and other 15 formats, with original file quality retained.Add PDF to the PDF OCR Software for Mac by drag and drop.Choose the output as Excel. Turn the OCR button ON, go to the output menu and choose "Excel".Click "Convert" to convert PDF to Excel on mac.Best PDF to Excel Converter for Windows PC—-Foxit PhantomPDF 8 for Windows, a powerful PDF Editor for Windows user, also works an outstanding PDF to Excel Converter.Open PDF with the programGo to ConvertTo MS OfficeExcel.Save the Excel file.
Could someone list some quality OCR PDF to Excel converters?
You can try Wondershare PDFelement. This tool lets you convert PDFs into Excel, Word, PowerPoint, images, Text, EPUB and many other file formats. You can convert multiple PDFs to Excel in one batch job entirely or with selected pages only. Even scanned PDF can be converted into Excel with OCR.This article will be helpful: How to OCR PDF to Excel Document
What are some good PDF to Excel converter? Preferably ones that also convert Secured PDF documents.
If you are working on a Mac, why not try the PDF OCR Converter, you can change all PDFs(secured, native and scanned) into 16 editable format, including Excel.add files into the program, batch or partial conversion are supported,choose the output format as "Excel"Click "Convert" to find the well formatted Excel file in the selected output folder.If you are a Windows User, try Foxit PhantomPDF 8 for Windows, it can edit, create and convert pdfs on Windows PC.Open PDF with Foxit PhantomPDF 8.Go to ConvertTo MS OfficeExcel.Also, there are online free PDF to Excel converter to do such a conversion.
How can I convert PDF files to Excel on a PC?
This is a very common problem among bankers, accountants, small business owners, Payroll employees, and pretty much anyone who uses Excel. There are a few different versions on the market for this type of conversion but after much reason Cogniview LLC has the best solution. PDF To Excel Converter for Pros ✔✔ Cogniview has a great preview tool that lets you see exactly how to data is going to look before you convert it into excel and that helps for a number of reasons. You can see what columns and rows are going to look like. You can tamper and correct the data BEFORE you convert which saves time. By far the best solution is Cogniview. The nice thing is they also have an OCR and Enterprise edition that will enable you to convert Scanned documents which can be tricky. OCR stand for "Optimal Character Recognition" and is a computer program that is incorporated into the software. PDF2XL Enterprise Online Purchase PDF2XL OCR Purchase | CogniView Once you buy their product it is yours for life so you dont have any pay any monthly fees. They usually have some discounts going on when I check the site but out of all the options this one is probably the best. There is a 60 sec demo on the main web page that helps explain how easy this is to complete.